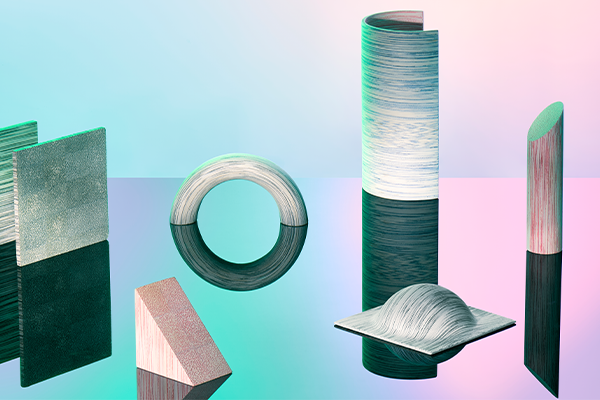 Nature Tech Community
We work collaboratively with our interdisciplinary network to adapt karuun and karuun's manufacturing process so that everyone benefits sustainably throughout the development cycle.
Learn more
What is rattan?
Rattan is a product from the stem of any rattan palm belonging to the genus Calamus or other palms of the subfamily Calamoideae. Rattan, also spelled ratan (scientific name: Calamus Rotang) is a fast-growing, climbing palm native to the rainforests of Southeast Asia. It can reach a length of 200 metres with a diameter of up to 20 cm. Calamus Manau rattan has a maximum diameter of approx. 8 cm.
Rattan grows best in the warm, humid climate of the equator, so not only in Asia but also in Africa, India and Australia. Most rattan comes from Malaysia, Indonesia and the Philippines, however. Its name comes from Malay, where it is known as 'rotan'.
There are 600 different types of rattan, only about 30 of which are used commercially. The industrial uses of many types are still unexplored.
What is the difference between rattan and bamboo?
On the outside rattan and bamboo look similar, however in contrast to bamboo – which is actually a type of grass – most species of rattan do not grow independently. Instead, rattan relies on other plants for structural support, climbing them using its small spines. Rattan is known to grow up to several hundred feet in length. The thick part of the rattan palm is used to make frames for furniture. The five-metre sections cut from the shoots' surface are smooth on the outside and are traditionally used to produce sturdy wickerwork furniture, mainly chairs and sofas. 'Chair cane' is 4 mm or less whereas 'binder cane' is typically at least 4 mm, both are usually sold in coils. Rattan is also considered a culinary speciality in Indonesia.
How much rattan is produced in Indonesia per year?
As the main exporter of high-quality rattan, Indonesia produces around 80 per cent of the world's rattan, exporting more than 400-500 million tons per year.
How much rattan can be grown in a hectare of forest (100 x 100 metres)?
200-250 seedlings can be planted per hectare. When all the plants are fully grown, approximately 12,500 metres of rattan with a diameter of two to eight centimetres can be grown in one hectare of rainforest.
How is rattan for karuun® harvested?
Rattan stems are pulled out of the canopy, and then the dead leaves and any other debris are removed. The top two to three metres of growth haven't hardened up yet, so they can be cooked and eaten. Debris is usually removed by winding the rattan stem around the trunk of a small tree and pulling, leaving behind a clean stem. This is then cut into sections about three metres in length, bundled up and transported out of the forest to the processor.
How does the method of harvest compare to other materials e.g. wood?
Rattan is harvested by hand with a machete. It's easier to harvest than wood, it requires simpler tools and it's much easier to transport. Compared to wood, harvesting rattan has a far lower impact on the forest ecosystem; no large machines which would destroy many plants and soil structures in the long term are used to harvest rattan.
What is the composition of the rattan used for karuun®?
The composition of rattan in its unprocessed form is cellulose, hemicellulose, lignin (about 21-27%), inorganic substances (of which: 68% silicon dioxide, 12% magnesium dioxide, 17% calcium dioxide).
What are the material's technical properties?
Unlike bamboo, rattan is not hollow. Rattan is characterised by its capillary structure, robustness, flexibility and lightness. These properties allow rattan to be processed creatively and shaped with heat and water.
How much rattan is needed to produce karuun®?
50 m rattan palm = 18 poles
1 block = approx. 100 poles
1 block = approx. 5 plants
5 plants are needed for approx. 200 m² karuun®
What is karuun® made of?
97.5% natural rattan
2% wood glue
0.3% acrylic-based binder
0.2% colour pigments
In the future, adhesives and binders of natural origin will be used that meet all technical requirements.
Can karuun® stripe be recycled?
karuun® stripe can be recycled as scrap wood or used as fuel.
What are the transmission values of karuun® stripe?
The light transmission value of karuun® stripe natura is 15%.
What fire protection class does karuun® meet?
Due to its silica content, karuun® is inherently flame-resistant. The fire protection class has not been tested in the laboratory yet, as the material is predominantly used in composite applications.
What are the acoustic values of karuun® shine?
karuun® shine has a noise reduction coefficient of 0.95 NRC and a sound absorption coefficient of 0.9 aw.
What are the light transmission values of karuun® shine?
The light transmission of karuun® shine natura is approximately 50%.
How much waste is generated in the production of karuun®?
Very little waste is created to produce karuun®. Only the outer shell is removed from the naturally grown poles for processing purposes. When karuun® is made into veneer, the round bar is milled square, which produces waste in the form of fibres.
Is the waste re-used?
The shell isn't just thrown away; it's re-used as bedding for chickens for example. For us, the fibres left over after milling are the raw materials of tomorrow, so they're collected up for use in the future. In fact, we're already working closely with partners in the fibre-processing industry to develop future products.
How much karuun® is currently being produced?
The production of karuun® is fully scalable to requirements. Automated and manual processes, as well as warehousing, all run in parallel, making us a reliable supplier to the industry. At the same time, by increasing capacity stably, we're able to maximise the advantages, such as protecting the rainforest and securing a sustainable, fair income for the rural population. Every order directly supports rattan cultivation and our unique, circular economic model.
The annual production quantity currently ranges between 500 and 1500 karuun® blocks (100,000 m² – 300,000 m² veneer).
The demand for rattan to produce karuun® is increasing — how can this demand be met sustainably?
Rattan is a naturally renewable resource, and there are ample stocks of it for sustainable karuun® production. Plus, the intentional use and cultivation of rattan not only satisfy this demand but also serve to protect rainforests; as the demand for rattan increases, so does the urgency to preserve its rainforest habitat.
It is crucial, therefore, to replant harvested rattan and ensure that the forest is used for rattan harvesting in the long term. In a concerted effort towards this cause, we launched a collaborative initiative last year with our partners VIVERE and GIZ. This groundbreaking programme focuses on developing a comprehensive training scheme for rattan rangers. The ultimate objective is to harness the vast potential of sustainable rattan cultivation for the benefit of humanity and the environment.
Why is the forest where "karuun® rattan" grows so important for the local people and community?
The primary driver of ongoing deforestation is the demand for resources and improved economic livelihoods. We firmly believe that successful sustainable forest management and active environmental conservation rely on two key factors: benefitting the local population and making forest preservation economically more attractive in the short term compared to direct deforestation.
To achieve sustainable rattan management, it is essential to maintain healthy forests and employ labour-intensive harvesting methods that avoid heavy machinery. The cultivation of rattan for karuun® aims to provide the local people with a long-term income by ensuring the protection of existing rainforests and promoting reforestation efforts. The revenue generated from sustainable forest use, combined with other non-timber forest products or carbon offset certificates, plays a critical role in establishing a resilient rattan supply chain while ensuring the long-term commitment of the farmers involved.